30th of August 2023, Changchun, China – Gpixel announces the GCINE3243 CMOS image sensor, the second product in the GCINE product series for cinematography, drones, production video as well as astronomy and scientific imaging. The GCINE product line features Back-Side Illumination (BSI) for high QE and wide angular response, as well as wafer stacking for 8k frame rates up to 60 fps and various extended full well and HDR modes.
GCINE3243 is a 43MP 26.2 x 16.7 mm2 sized APS-style image sensor with a 3.2 μm2 BSI pixel size designed specifically for the demands of high-end video imaging. With a resolution of 8192 x 5232 pixels and highly configurable read out, 8K video at 60 fps or binned 4K video at 120 fps is supported, all at an impressive bit depth of up to 14 bits per pixel. Read out of the image data occurs over 32 sub LVDS channels @ 1.05 Gbps/channel.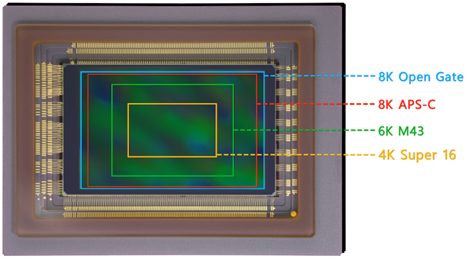 The state-of-the-art wafer stacking technology used in the GCINE3243 sensor allows the BSI pixel array to be designed on a separate silicon wafer than its read-out circuit, pushing optical performance and read-out speeds beyond what is possible on single chip architectures. The BSI pixels in the top wafer are fully optimized for maximum light sensitivity and low noise performance. The bottom digital CMOS wafer contains an arrayof core cells each supporting a high speed 14-bit ADC circuit and SRAM memory blocks which are used to sum and store up to 4 subsequent sub-frames with seamless exposure, enabling an in-pixel full well charge of up to 96 ke- and a dynamic range of 81 dB in 8K mode and up to 192k e- full well in binned 4K mode and a dynamic range of 84 dB.
The advanced GCINE architecture also supports a variety of modes to achieve excellent image quality across all lighting conditions. A classic dual gain read out HDR mode provides up to 81 dB of Dynamic Range in 8K resolution. Additional HDR features including binning, exposure stacking, compressed HDR and similarly as on the GCINE4349 the Gpixel proprietary digital multi slope HDR with deterministic knee points allowing a relinearization without the need for calibration and > 100 dB of Dynamic Range. A dedicated Digital Still Camera (DSC) mode is supported as well, improving the read-out noise and offering global reset shutter control.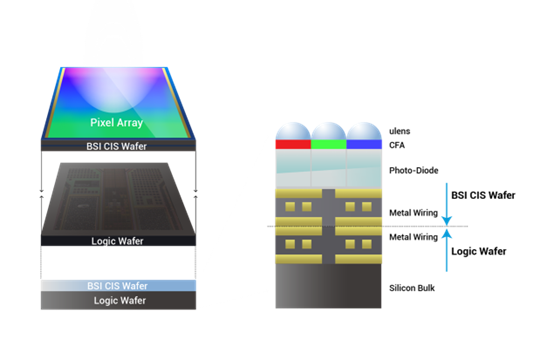 "By expanding the GCINE product family into smaller optical formats, we broaden the applications that can benefit from its BSI and wafer stacked architecture and variety of HDR features," says Wim Wuyts, Gpixel's Chief Commercial Officer. "We plan to continue to build on the success of this platform with additional standard and customized sensors supporting the professional video market."
GCINE3243 is packaged in a 455-pin LGA ceramic package and comes with a double side AR coated glass lid. The sensor will be available in both color and monochrome versions,
thereby supporting applications in scientific imaging in addition to professional video. Purchase orders for color prototype samples and evaluation boards can be placed now for
deliveries this month, and monochrome samples will be available in Q4 this year. For more information, please contact Gpixel at info@gpixel.com.
About the GCINE sensor family
The GCINE family is Gpixel's product family of truly innovative products for cinematography, drones, production imaging and other video applications, utilizing
backside illumination to achieve high sensitivity and exceptional dynamic range. For more information about the GCINE product family availability and roadmap, please contact
info@gpixel.com to arrange for a confidential overview.
About Gpixel
Gpixel is an international company specialized in providing high-end customized and offthe-shelf CMOS image sensor solutions for industrial, medical, scientific, and professional imaging applications. Gpixel's standard products include the GMAX and GSPRINT global shutter, fast frame rate sensors, the GSENSE high-end scientific CMOS image sensor series, the GLUX series of high sensitivity sensors for surveillance, the GL series of line scan imagers, the GLT series of TDI imagers, GTOF series of iTOF imagers, and the GCINE series of sensors for professional video and photography. Gpixel provides a broad portfolio of products leveraging the latest technologies to meet the ever-growing demands of the professional imaging market.